30 Countries in 7 Years: That is playing the travel game in expert mode and unlocking all achievements in one go. From Australia via Europe to Asia and Latin America in less than a decade is a dream come true for any travel nut.
I found one such individual in a small costal village in Queensland, who was willing to share her knowledge and experience with us. A true expert when it comes to living abroad as well as indulge in local adventure. Read all about her exciting life from being broke in metropolitan London to travelling around the globe for her job and learn from her valuable insights. Enter Jo:
Hinweis
Warum ist der Artikel auf englisch?
Wir arbeiten mit Experten und Einheimischen zusammen, um dir Insider-Wissen und Geheimtipps aus erster Hand zu liefern. Damit die Information so authentisch wie möglich bleiben ist unser Gedanke, sie in der Rohfassung zu präsentieren. Wenn du diesen Artikel allerdings lieber in deutsch vorliegen hättest, dann hinterlasse uns einen Kommentar am Ende der Seite. Ein einfaches "Toller Artikel, aber ich würde ihn lieber auf deutsch lesen." reicht vollkommen aus.
A decision to change my life and move from a country town in Australia to the mega city of London turned out to be the greatest decision I have made to date.  Since embarking on the experience of a lifetime and now having lived and travelled in over 30 countries in almost 7 years, my mind has been opened beyond what I could have ever imagined.  Now living back in Australia, I look fondly upon the travel I have been fortunate to experience.
Kick start in the hub metropolis of London
The move to London was made simple through the preparation of essentials such as money, visas, flights and an initial whirlwind tour around central Europe with a New Zealand travel company called Contiki to kick start living abroad.  However, no amount of organisation could have prepared me for the initial lows of uprooting my life and starting fresh on the opposition side of the globe.  I went from a well-paid job in Australia to being unemployed in a massive international city where hundreds compete for the same job. Job hunting was rough, ego-popping from constant rejection and lending myself to stalker-like behaviour with employment agencies. At that same time, I was searching for cost effective, centrally located accommodation to rent without a clue when or where the first pay cheque was to come from.  These first few weeks were tough to say the least.  I didn't give up.  Perseverance and resilience got me through this difficult time I eventually landed a job that truly kick started my life abroad and later enabled me to travel the world.
Escaping the work trap and start the exploration phase
I was warned that once a person moves to London as a base for European travel, the city becomes a trap of work and social circumstances.  I found this very true.  Whilst inexpensive flights and tours were certainly attractive for travelling to the popular and low key continental destinations, I was easily lured into London's trap, lapping up the city's expensive, vibrant and historical adventures with new found friends and colleagues.
Natural and man-made disasters such as the Boxing Day Tsunami and London's 7/7 bombings brought things back into perspective.  Life is short. You can't control what may happen next. Challenge yourself and experience all that is possible.  A philosophy that has served me well is to embrace the unknown and never say NO when it comes to these unknowns when travelling – this is how life changing experiences flourish.
I later moved to Singapore where I was very fortunate to travel for work and play around many of the surrounding Asian countries, a stark contrast to my European travels.  A few years later I moved to Sao Paulo where again I was very fortunate to travel for work and play to a few of the surrounding Latin American countries.  Here, life is lived to the extreme, regardless of wealth and possessions.
Travel planning like a pro – Find adventure at every corner with local guidance

Yes, some of my travels could have been viewed as risky, however with risk; the experience can be that much more rewarding.  Communities are that much more realistic and humbling.  Along the way, there were a number of things I have learnt.  To lessen the risk of travelling, research the travel destination with the aim to immerse myself in the culture. Find out the risks from several angles, not just major tourist agencies that tend to exaggerate how good or bad the destination may be.  I speak with people who love adventure, food and culture and have been to similar destination as it is through personal experience where little "charms" can be learnt that travel books may not cover.  Staying with local families completely immerses me into the local culture; something that hotels cannot offer.
Once I commence my trip, saying YES to impromptu innovations from the locals more often results in some life-long memories.  When I meet a local, I am inquisitive about what they do, what they like most about their community and surrounding areas and their culture. This friendly deposition has resulted in the person volunteering to show off their local experience like no other some of which have been the highlight of my travels!  From late night parties in the homes of locals (eating typical foods, drinking homemade concoctions and listening to traditional (and some not so traditional) music) to visiting lesser known swimming holes, ancient ruins, wineries and markets.
If you don't act like a tourist you won't be treated like one: The secret sauce to connecting with the locals
It is most important to be yourself, but respect the local culture and community.  Having travelled on my own and in groups, I have certainly seen a fair share of travellers behaving badly, disregarding cultural and legal expectations.  The locals and other tourists end up disrespecting these people and their associated countries, resulting in a miserable holiday, or worse.  I always remember that I am a gringo, gweilo, ang mo, farang, antipodean; a foreigner.  What I do, say and leave behind on my travels will always reflect on my country – be an ambassador and leave only great impressions whilst travelling.
After a tremendous 7 years living abroad, I have settled back to a small coastal village in Central Queensland, Australia.  My partner and I now host national and international guests in our home through an online company called www.airbnb.com and thoroughly enjoy meeting new people and swapping stories.  I highly recommend Airbnb for your future accommodation considerations to really immerse yourself with local families and their community. You won't regret it and maybe new friendships will be formed!
A few essential items that I always travel with apart from the obvious passport/money/tickets are:
An open mind with a willingness to say yes to almost anything
A translation book/device
Travel insurance
Everything else can somehow be obtained along the way
Stay with Jo in Yeppoon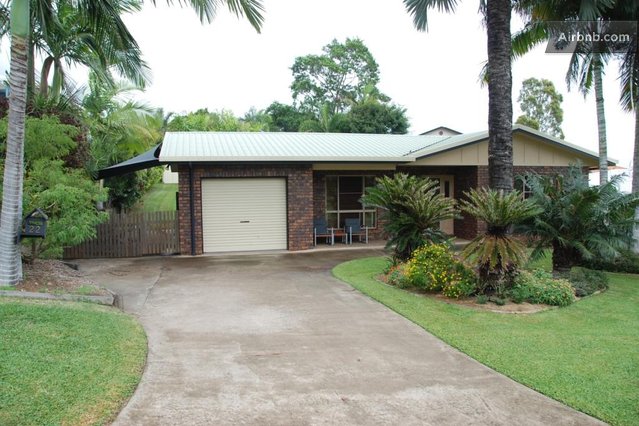 Stay with the travel pro
Located on a tranquil hill Jo's house is only a 5 minute walk to shops and a 15 minute walk down to the beach. Nearby attractions include Great Keppel Island, North Keppel Island, Cooberrie Park Wildlife Sanctuary, Capricorn Coast National Park, Capricorn Caves and more.
She hosts travelers from all around the world and enjoys swapping travel stories. When I stayed at her place I got a glimpse at all her souvenirs and she told me all about her travels. Make sure to check our her airbnb listing.
Travel equipment recommended by Jo
An open mind with a willingness to say yes to almost anything
A translation book/device
Travel insurance